Call us today! 1.800.456.2378 ¡Llàmenos hoy!

Commercial Laundry Service in Texas

Your one-stop shop for all your laundry needs.
When your business depends on clean laundry, you can depend on Best Wash Inc.'s award winning service department. Our commercial laundry service in Houston, TX, will fix or improve any maintenance to your equipment or machines. Our goal is to supply quality customer service from before your purchase to the very end of our interaction. We understand that equipment downtime is not just an inconvenience—it can cost your business revenue. Our commercial laundry service in Houston will help prevent any other damage or inconvenience from occurring. That is why every participating Red Carpet Service provider delivers on Maytag's commitment to superior service in the following ways:
Technical ability
Maytag Commercial Red Carpet Service technicians have extensive training and experience, so they have the expertise to diagnose and repair today's complicated appliances right the first time.
Parts availability
Technicians have genuine factory-approved repair parts on hand or readily available, along with the proper tools and test equipment to correct product service failures in a timely manner.
Rapid response
Service requests demand a quick response in today's competitive business climate. Our goal is to provide service within 24 business hours.
Professionalism
Red Carpet Service-authorized Maytag Commercial distributors and laundry route operators provide their customers with courteous, prompt service. Their professionalism even carries through to their appearance — from technician uniforms to vehicle identification and signage that bear the Red-Carpet Service logo.
With Maytag Commercial Red-Carpet Service, you can expect the absolute best in attentive service, rapid response times and technical expertise to keep your Maytag® equipment running right. Because it's not just your laundry on the line—your business is, too.
Contact Us
Looking for a business opportunity that offers the prospect for steady income, high rate of return and growth potential with low downside risk? Give us a call we can help! 1-800-456-2378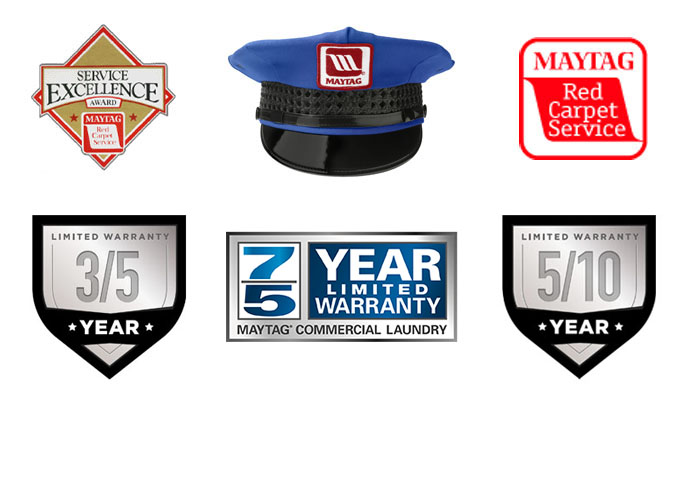 Please see product page for individual model warranties for our commercial laundry services inTexas.